The Pulsefire FPS Pro has high performance at a low price and is the latest improved iteration from HyperX.
The Pulsefire FPS Pro from HyperX is the latest release in a range that has had some good designs and implemented hardware. The FPS Pro With its right-hand ergonomic design has been created for serious FPS players. The mouse sits in the middle of HyperX's range between the older Pulsefire FPS and Surge. Its offering gamers decent specs for a lower price and its the value of this mouse that makes it a possibility.
The mouse features the PixArt 3389 sensor like in the DeathAdder Elite and also has some durable Omron switches to go along with it. The overall performance of the mouse was really good, it was responsive in-game and felt like a very balanced mouse. The HyperX Pulsefire FPS Pro may sound like a mouth full but the mouse is an uncomplicated bargain at around £40/$40 and with some premium features to go with it!
Pros
Great Performance – Precise sensor
Design – Ergonomic design
Grips – Excellent textured grips
Features – Mouse has a braided cable and RGB
Onboard Memory – Save configurations to mouse
XL Skates  – Easier gliding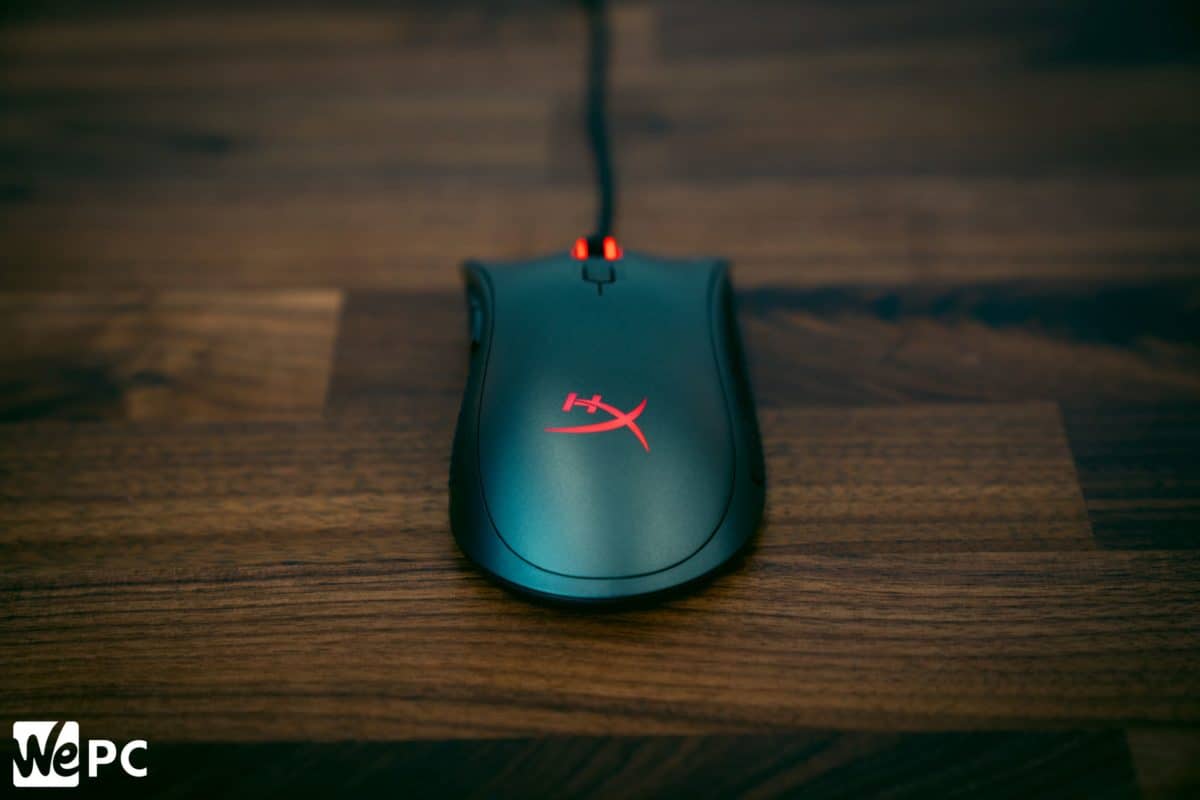 Mouse Size & Weight
Weight: 95g
Size: Medium
127.6 x 41.9 x 71.1mm
Length: 12.7 cm – 5 inches
Width: 7.1 cm – 2.7 inches
Height: 4.2cm – 1.6 inches
Hand Orientation: Right
Mouse Tech
Sensor: PMW3389 Optical
Buttons: Omron (20M)
DPI: 100-16000(increments of 50)
Polling Rate: 1000Hz
Connection: Wired
Cable: Braided
Cable Length: 1.8 metres
What's in the box
The mouse comes in a clean box with a simple red and white design reminding me of older Microsoft products. The classy box has the product on the front along with some features to the mouse and you can find the specifications on the side too.
Inside we have:
HyperX Pulsefire FPS Pro
Letter from HyperX
User Guide
Size & Weight
The overall size of the Pulsefire is similar to that of the EC1-B mouse we saw from Zowie. It has a 12.7 cm length putting it to the longer end of the scale and it has the exact same dimensions as its predecessor (the Pulsefire FPS).  Even though its as chunky as a wireless Mamba or EC1-B it doesn't feel it in the hand strangely due to the steep curve in the middle I suspect. The design also has the sides sloped inwards giving you less surface area to rest your hand. For a casual mouse, its overall size was comfortable but I didn't enjoy it so much after a few hours of constant gameplay despite how light it was. My hand (18×11 cm) sat nicely on the mouse and there was no friction from overhanging fingers. The medium size of the mouse does support a hybrid claw/palm grip but full palm gripping was less comfortable due to the 4.2 cm hump sloping off to the back too steeply.
The weight of the Pulsefire Pro is excellent, at 95 grams it's a nimble device. That's 1 gram lighter than the Rival 600 but this mouse won't come with any weight customisation. Its light weight doesn't feel taxing to use and with the XL skates on the bottom, it's quite a quick mouse. A positive about the weight is that even someone with small hands could use this mouse effectively in-game and get a good grip.
Shape & Texture
The FPS Pro has been designed with comfort in mind for the right-handed gamer and HyperX offers an ergonomic shape to this mouse. The shape is the same as the Pulsefire FPS and lets the mouse down for me as there are some supremely comfortable shapes on the market to compete with. Most notably the DA Elite has one of the comfiest shapes going but even the SteelSeries Rival 600 or the EC-B series from Zowie are just miles ahead for mice shapes. That being said the FPS Pro is cheaper and offers similar specifications to the DA Elite so it could be a penny-saving 'replica' option. I play a lot of FPS games and shape is highly important so I would maybe weigh up the options and consider splashing an extra £20/$20 if you can.
It looks highly like the Deathadder with the main differences being the primary buttons are squared off and fan outward from the scroll wheel. The higher profile hump in the middle is a big gripe for me as it appears to be the main factor in stopping me gripping this mouse how I would like to. The shape towards the front of the mouse is great and it gives your fingers a nice gentle curve to rest on. I could use a claw or fingertip grip with this mouse as the left side tapers in to give you a nice slight indentation for your thumb. On the right-hand side, the mouse slants gradually away giving comfort to your ring and pinky fingers.
The mouse is almost completely made of a gunmetal smooth plastic which is quite slippy. It feels similar to the EC series material but due to the shape of this mouse its a lot harder to grip. Luckily the mouse features some textured rubber grips on the side which have a great metal-board texture to them sticking the grips to my fingers. The mouse is grippy thanks to these side panels but with a relaxed grip, the mouse would loosen and slip out.
Buttons
The FPS Pro has Omron switches under its flared primary buttons with a durability of 20 million clicks. The switches were good and produced a nice noise but in-game they didn't feel as responsive as on other mice, I found it harder to spam when tapping a weapon that is single fire or semi-auto and it came across as slower. Other than this speed issue which could just be me I found the actuation force to be good as you would expect from this switch but in the middle ground compared with other mice. The primary buttons have a nice curve to them and they are very comfortable to use.
nothing new between the primary buttons, you've got a scroll wheel! It's a tactile wheel that you can program as you please and features some extremely bright RGB lighting which is neon-like and quite attractive. The Wheel is one of the quietest I've used and the tactile response from the wheel was handy in CSGO for changing weapons. Behind the wheel is a DPI button which will cycle through your preset DPI options you can set up in the software. The mouse does feature some presets saved on to the onboard memory meaning you don't even have to install the software for some customisation. The DPI button sits in its own little pocket to prevent any accidental DPI switching.
There are a total of 6 programmable buttons on the FPS Pro two of which are the side buttons. The thumb buttons are actually quite good and have a responsive feeling click, which I didn't expect from a cheaper mouse. The side buttons sit in a comfortable position that is easily reached but can't be accidentally pressed. They feel solid when clicked and don't wobble around like other cheap mice buttons tend to.
Cable
The cable is a 1.8 metre fixed braided USB cable and feels almost identical to the Deathadder Elite Cable. It's braided but smooth so there won't be any unwanted friction and it shouldn't snag too easily on your other peripherals/ mouse pad. The cable is quite flexible and the quinks were easily ironed out with my hand but it seemed to do this mostly on its own after being set up properly. Braiding offers more protection for the cable but I'm not certain it's too important. The cable has a nice thickness and fits in all my bungees but did slip through the cheap one like quite a lot of other mice.
Sensor & Performance
For a mouse retailing at around £40/$40, it has some decent specs under the 'hood'. The PWM 3389 is featured on the FPS Pro and it may not be the best sensor on the market but its certainly a decent one regardless. This premium sensor from PixArt is capable of tracking up to 16,000 DPI with no acceleration and it was very reliable through the different FPS titles I played. In PUBG tracking enemies while scoped was easy and I didn't notice any smoothing issues. I did find tapping a chore in CSGO which was probably down to the buttons, but the sensor was precise and never let me down for accuracy. The lightweight mouse allowed for some easy flicking that was on the money after becoming used to the shape. The FPS Pro has an IPS speed of 450 and even though I play on low sensitivity and throw the mouse around quickly it didn't spin out on me.
I did feel a lack of control compared with other ergonomic mice but this could be down to the overall shape from the FPS Pro not living up to the competition. Either way, the comfort directly impacted in-game performance and it wouldn't be a mouse I'd choose if money was no object. That being said it's comfortable enough I'm just being picky and for the price, you're getting a reliable accurate mouse that can easily track targets in any game.
The polling rate is fixed to 1000Hz (1ms) and can't be changed. I don't mind this as all mice I use are set to 1000Hz but if you are used to being able to change this then you may have to opt for a different mouse.
Software
The software from HyperX is called Ngenuity which is the last thing it is. Don't get me wrong the software works but compared to its competitors it's not very intuitive. You are met with a default profile you can change in the software but if you were unaware you would probably go to performance first to alter your DPI settings. There doesn't seem to be labeled buttons and even setting your DPI is tiresome. When changing lighting the software shows you a large image of the mouse which you usually click to change in other manufacturer's software but this is just an image in Ngenuity. Problems aside you can set 5 different preset options for DPI and when you click the DPI button it will pop up showing which DPI setting you are on in the right-hand corner. The DPI settings can also be colour coded giving you a visual cue in-game.