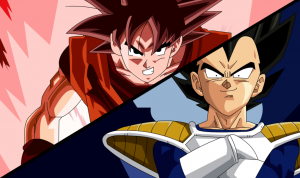 The show which was first started in 1989. No one had ever thought it will come such a long distance. There is already enough talking about Dragon Ball Super, but today we will like you to go back in time and enjoy the moments of how it all started.
This article is much useful for those who did not see Dragon Ball Z instead they started from Dragon Ball Super because after reading this article they all will completely understand about the Goku vs Vegeta (Kakarot vs Vegeta) first fight, their Saiyan relations, the difference they have and about their friendship.
Goku and Vegeta Saiyan Relation
Goku (Kakarot Saiyan name) was born to a full-blooded Saiyans Gine (Mother) and Bardock (Father). Goku had a brother name Radiz who was killed by Piccolo at the start of Dragon Ball Z. Goku was sent to earth to destroy it and then sell to the Tuffles.
When landed on the planet earth he was picked up by Gohan (an old Man). Gohan take care of Goku when he was an infant and as a Saiyan Baby Goku was evil until he was accidentally dropped by Gohan into the waterfall and hurt his head badly. Due to the injury, Goku had lost his memory or the goal for which he was sent to. From that day Goku became a good boy and that's how his journey started.
Vegeta was born to full-blooded Saiyan King Vegeta (father). Vegeta is known as Prince of all Saiyans and King Vegeta is refers as King of all Saiyans. Vegeta lost his father when he was young. His father was killed by Frieza and as well as Goku's Father when Frieza destroyed Planet Vegeta, a planet where Saiyans lived named after King Vegeta
Vegeta spent harsh life during his childhood. He became a slave of Frieza when he was a kid. The Prince had to do slavery, and that is why Vegeta's character is aggressive.